What is meridian?
Meridian System in our body is an important system, as important as the transportation system in our city. The meridian system in charges of transportation of vital energy, Qi,and blood in our body.
Read more here.
Importance of Meridian Health
If there is an unnoticed blockages in our meridian systems, it may results in deterioration in our health and lack of vitality. Therefore, it is important to make sure the transportation system in our body is well maintained on regular basis.
There are few ways to achieve smooth running of transportation system in our body, namely Meridian Massage and Tapping, LOHAS Meridian Exercises and Flexercise, take food that nourishes our meridians and proper sleep.
LOHAS Meridian Exercises is designed exactly to suit the modern hectic lifestyle.
It is supposed to be SIMPLE and EASY to practise and it shouldn't take much of our time. Most of all, it can be practised almost anytime and anywhere.  You don't even need to put on your running shoe.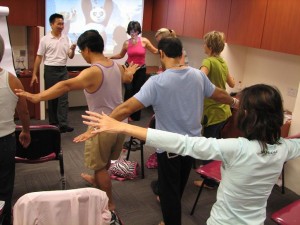 In the LOHAS Meridian Exercise Program, participants will get to
– better understand about their important 12 Meridians.
– important points of each meridians.
– different ways to that enhance their meridians health.
– They get to learn SIMPLE and EFFECTIVE techniques with the personal coaching from our trainers.
– Participants will receive a pocket size LOHAS Meridian Handbook for easy references.
The intent outcome for the participants are
– better understanding and sensitive to our body signals,
– improve body conditions including relieving aches and pains, digestive system and weight management.
– strengthen immune system
– better quality of sleep.
What our past participants said?
"After practising the LOHAS Meridian Exercise, I find that my knee are more flexible during the dancing class", Lina, Principal.  Aug 2011
"LOHAS Meridian techniques and exercise has helped me in my bowel movement. This is much better than taking laxative", Teresa, Sep 2011
"I am a acute runner.  I realised that I was able to runner faster after practising the LOHAS Meridian Exercise", Li Kiang, Homemaker, Aug 2011.
"I thought I already can sleep well.  After practising the LOHAS Meridian Exercise, I am now able to sleep even better. There is no secret, just practise this 5 min exercise twice a day.",  Betty, Freelance Trainer,  Apr 2011.
"I can testify that I've truly energised myself from your sessions and can feel that the "blocked" qi in my body is being "unblocked" by exercising the LOHAS Meridian steps you taught".  Sylvia Ho, PA, July 2012
"We should thank you for these valuable sessions, sharing with us the right way of keeping our body fit and healthy.  Through The LOHAS Meridian Exercise, I personally can see results. Now I don't feel bloated and I can feel that my digestive system is stronger and bowel system is more regular too.  I am not sure how long I have to suffer if I have not ome to know about this Exercise.  Thank you ", Judy Ong, July 2012
Upcoming class Six Fridays: 
All participants will be given a complimentary LOHAS Meridian Handbook (worth $14) to enhance their learning.
For enquiry or registration, please call/sms 90662770 or email us at
contact us.
For our up coming classes, please click
Calender